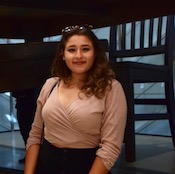 Hi, I'm Lanna!
Thanks for checking out my site!
I'm from the North side of Chicago and I study in Claremont, California. I am currently studying abroad in Havana, Cuba for my Spring semester to learn more about about Cuban politics, Afro-Cuban Studies, and Caribbean Art.

I am a junior at Pomona College studying Public Policy Analysis with a concentration in Sociology. I plan on becoming an attorney for the public interest, serving women and children in immigration law.

Last summer, I had an incredible experience as a Forensic Social Work intern at Lawyers for Children in New York City.

My favorite food is spicy tuna rolls and my favorite drink is sparkling pink lemonade. I have two Shih-Tzu mixes named Domino and Chloé. I love to dance, do yoga, photography, and cook up new recipes!